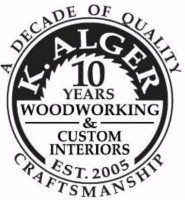 QUALITY | CRAFTSMANSHIP | DEDICATION
See what our past clients have said about our work.
Tom K.- Homeowner, Narragansett, RI
"Ken worked with my wife and I to develop a custom built -in . He took our ideas and put them to paper. When he installed the actual product, We couldn't imagine that the project would come out as well as it had. Ken was a referred to us from our good friends and I highly recommend him to all those looking for a job done on time and to perfection."
Tim R . Homeowner, Norton, MA
"Ken and his crew were big part of our home remodel. He supplied all the millwork and cabinetry for our addition. From concept to design and final install Ken and his crew delivered the top notch product that they are known for. I highly recommend K. Alger woodworking for any custom project you're thinking of."
Nancy and Tony F.-  Homeowners,  

East Greenwich, RI
"Ken and his crew were great to work with. Their knowledge in the field helped us choose to refinish our kitchen instead of going new. He worked with our budget to get the project done on time. We could not be any happier with the ending result. We highly recommend Ken and his crew."
Jason G. - Project Manager,  Boston, MA
"K. Alger Woodworking recently finished up an install for our Contracting Company. Ken and his crew we're responsible for a coffered ceiling in standing and running trim on our project. Ken and his crew worked closely with our site super to create an amazing product. Working in an old brownstone has its challenges but Ken and his crew work through them to give the clients just what they were looking for.. I look forward to working with Ken on more of our upcoming projects."
Matt C. - Builder, Manchester by the Sea, MA
"As a builder on the North Shore I rely on K. Alger woodworking to do all of our high end trim work and case Work install. I have been working with Ken for about 3 years and his work always speaks for itself."